Five Fun Facts About Fantasy Island


Whether you've experienced Fantasy Island before or you're considering your first trip, there are plenty of fun facts that you might not know about the park. Find out more about Fantasy Island and its rides in this list of fun facts about one of the best days out in Skegness.
1. The pyramid changed in 2016
One of the most recognisable parts of the park is the pyramid marking the indoor part of the park. However, what most people don't know is that the pyramid has changed throughout its life. In 2016, the pyramid's windows were covered over to improve conditions indoors, providing temperature control and a more precise climate. All of the indoor light is now artificial and you can enjoy the park at a comfortable temperature.
2. Some original rides still run
As Fantasy Island is constantly changing and improving, you might be surprised to know that some of the original rides are still going. The Carousel, Log Flume, Magical Seaquarium, Mystical Dragon Mountain and Toucan Tours attractions are still running as well as they did when the park opened, with Rhombus' Rocket still providing thrills for people of all ages. These rides are a major part of Fantasy Island and are staples in anyone's trip.
3. It's home to Europe's largest seven-day market
One of the best attractions to Fantasy Island is the market, with dozens of stalls all offering a great range of products. However, you might not know that it is Europe's largest seven-day market. The market is the perfect chance to take a few minutes to cool down from the excitement of all of the rides and recharge, taking part in a little retail therapy before diving back into the Fantasy Island fun.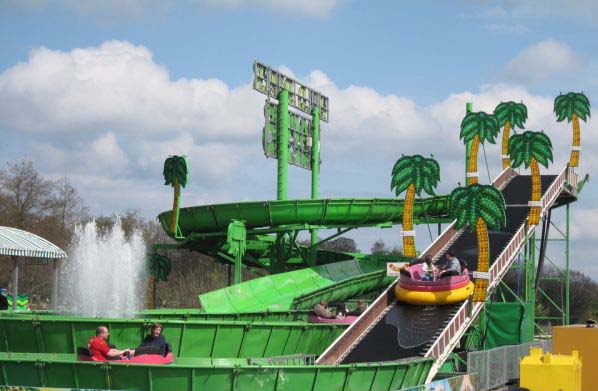 4. Wild River Rapids is the newest ride
Having joined the park in 2022, Wild River Rapids is the park's newest ride. This exciting spinning raft ride is big enough to fit four people on every raft, so you can join your friends and family on a sun-soaked adventure. This is perfect for a warm day, cooling you off in the freshwater of Wild River Rapids before you get back to the other coasters a hot summer's day at Fantasy Island has to offer.
5. It has a charitable past
Fantasy Island has taken part in charity events in the past. Most notably in 2011 when Darren Brettel rode the Millenium for 140 consecutive laps. He raised a total of £500 for charity throughout the event, with people appreciating the feat of endurance that repeatedly took him around the seventh fastest rollercoaster in the country. If you're looking to make memories and new things to do in Lincolnshire, try Fantasy Island today for a hugely varied entertainment centre with everything you could ask for.