GET READY FOR THE ULTIMATE BEACH PARTY
FANTASY ISLAND IS SET TO HOST AN ALL-DAY BEACH PARTY, WITH LIVE ENTERTAINMENT FOR THE WHOLE FAMILY
AUGUST 2021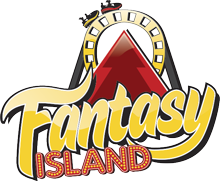 Fantasy Island is excited to announce its annual family Beach Party, which is hitting its shores at Island Beach on Saturday 10th July; and guess what, everyone is invited.
The theme park has partnered with children's charity, 'When you wish Upon a Star', to host a magical, family party to help kick off summer in style. From spectacular firework displays every Wednesday, three cinema nights a week and live music & children's entertainment, the Beach Party is not to be missed. Better yet, everything is free!
The all-day Beach Party kicks off bright and early at 10:30am until 10pm,event is from 12pm-10pm so, get your glad rags on and let Fantasy Island provide the best of British holiday feels for the whole family.
Also invited to the extravaganza is a range of special guests for the children including popular Transformers characters, Optimus Prime and the Bumblebee Robot. We now have Saracen from the original gladiators cast, as our special guest and we also have Paw Patrol Characters.
So, whilst the little ones enjoy fun activities including balloon modelling, games, competitions and face painting, parents can flick off their flip-flops and enjoy the entertainment, whilst sipping on themed mocktails & cocktails and indulging in tasty food.
The exciting Beach Party will also feature a cinema experience, showing movies on its impressive 450-inch TV screen three nights a week.
Wednesday is centred around family time, showing movies the kids; and parents, will love. Struggling for ideas for date night? Fantasy Island has got all the love birds covered as Friday is romance night. Guests can bring along a loved one and snuggle up for a cinema screening at sunset to a romcom film.
Finally, Saturday will include a range of family movies and reruns of popular US sitcoms, Friends and Big Bang Theory.
Paige Harris, Head of Marketing at Fantasy Island said: "This summer really is unmissable at Fantasy Island. Kicking off with our big Beach Party, which includes unmissable firework displays, and exciting entertainment. We're ready to welcome guests of all ages for some fun in the sun!"
The Fantasy Island Beach Party is in partnership with charity, 'When You Wish Upon a Star'. The children's charity has a simple mission, to make dreams come true for children who are living with life threatening illnesses.
To ensure you don't miss out on these entirely FREE events – visit the Fantasy Island website for more information.
For more information, please visit the Fantasy Island website.